Prepare for an adrenaline-fueled expedition deep into the heart of the wild with Rival's new slot game – Crocodile Hunt! It unveils a sprawling 7×7 grid nestled within a lush, enigmatic jungle bursting with untold treasures.
For players who have made a deposit within the last 30 days, seize the opportunity to embark on this expedition and claim your exclusive 10 free spins to kickstart your Crocodile Hunt adventure!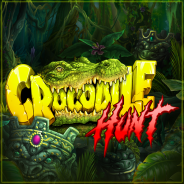 In this adrenaline-fueled game, your task is to form clusters by linking five or more symbols either horizontally or vertically. The larger the cluster you create, the more significant the rewards! Keep an eye out for the Wild Symbol as it swiftly substitutes other gem symbols, enhancing your chances of winning big.
But hold onto your seat as the Crocodile Crunch Drop Symbols cascade onto the grid, intensifying the excitement of your gameplay.
The game's Snap 'n' Stack Multipliers offer an adrenaline rush as wins surge! Beginning at 2x with the initial drop sequence, this multiplier sets the stage for big wins. With each successive win, the multiplier intensifies. Aim big as it escalates to an impressive 64X, unlocking the potential for extraordinary wins that'll leave you astounded. Stay sharp though – with every non-winning drop sequence, the multiplier resets, keeping you on the edge in this high-stakes pursuit.
Maximum Sequence Payout (64x) Hit Rate: 1 in 17,668.89                  
Free Spin Hit Rate: 1 in 44.3                                                                        
Hit Frequency (per spin): 43.6%                                                                           
Win Frequency (per spin): 19.4%                                                                         
Default Bet Range: $0.10 to $30.00                                                                       
Bonus Features: Wild Symbol, Drop Symbols, Sequence Multipliers, Free Spins
Discover the hidden riches of the jungle, immerse yourself in the thrill of the wild, and pursue colossal wins in Rival's Crocodile Hunt!